LUMEL with a pinch of spices
English Translation for: https://tek.info.pl/article/946/lumel_ze_szczypta_curry
Lumel with a pinch of spices
In the years 2015-2020, Lumel implemented a development plan, the culmination of which was the replacement of the old, no further developing headquarters at Sulechowska Street, with a new one, called Lumel 4.0. Which opened in the summer of 2020, Lumel 4.0 is a fresh complex of two buildings, one housing electronics production, laboratories, R&D department and offices, and a smaller one, called Lumel Arena, which is an important element in the strategy of President Dinesh Musalekar to build a strong team. Across the street: sister company Lumel Alucast, which also plays an important role in the development plans of Lumel SA.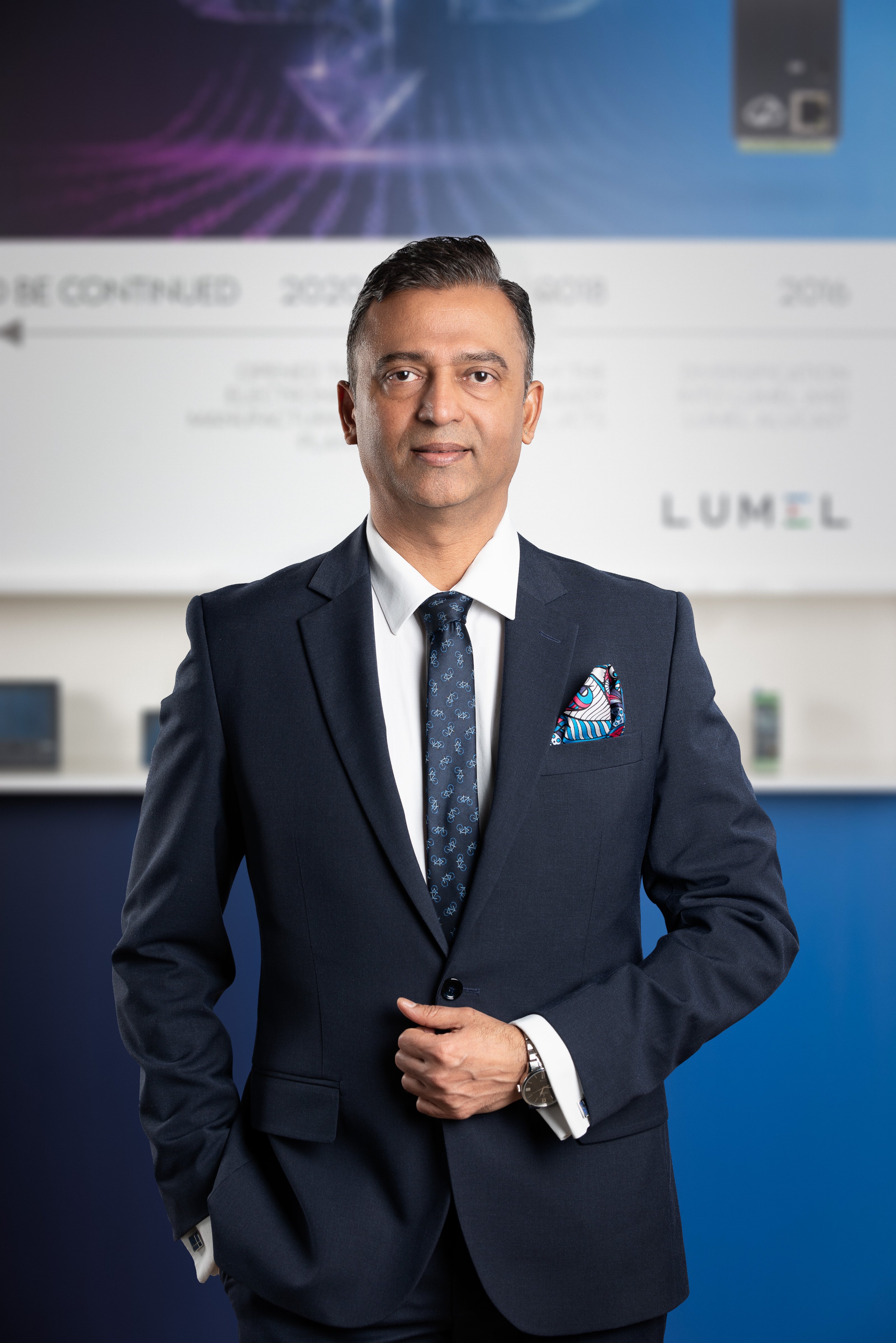 Mr. Dinesh Musalekar - President of Lumel S.A. and Lumel Alucast Sp. z o.o.
A new development perspective for Lumel has now started, covering the years 2020-2025. In terms of sales, Lumel is expected to grow 18 percent per year, i.e. taking into account the compound interest effect, it is expected to double its turnover within five years. President Dinesh Musalekar talks about the right starting point for the next stage: 'The move to the new headquarters was the culmination of the previous stage of development. Lumel has enormous potential, and with the space we currently have, we are able to double or even triple the production of electronics. If this was not enough, the building can be extended by a third floor - it was adapted to it at the design stage - or to the sides. We're ready for the next jump. ' Sales development will be based both on organic growth and the introduction of new products, as well as acquisitions, as exemplified by last year's purchase of Polon from Relpol.
So what will Lumel's products be like in the near future? 'Our products will develop in the direction in which the entire automation market goes. First, all devices on the market increasingly use a wide variety of sensors. The sensors themselves are also evolving, becoming more and more precise, capable of detecting small values ​​and changes. Another trend is that the data read by devices are immediately available in the cloud or on mobile devices, so it is necessary to equip them with an interface that ensures connectivity. The devices will also start to widely use the functions of artificial intelligence, 'replies Dinesh Musalekar.
However, no one forgets that Lumel is also dozens of years of history. 'Devices intended for the industrial market have a very long life, their development and evolution takes years. Our products, such as, for example, current transformers, will continue to operate on the market for many years to come, constituting a significant part of sales'. Indeed, during the visit to the production hall, several hundred products were being produced, including analog meters, designs known for decades, but still needed and sold.
In terms of assortment, the group with which Lumel has high hopes are devices intended for photovoltaics, and the company itself already has its first experience in this market. The photovoltaic boom is in full swing and who lives and offers assembly services, but the company from Zielona Góra has a much more ambitious plan: 'We have extensive experience in constructing devices supporting power in the range from 10 to 100 kW, which we can easily transfer to devices with lower power, adapted for the needs of photovoltaic installations. We create a whole range of devices intended for the green energy market, we want to have a comprehensive offer based on our own products. Rishabh Instruments has a strong R&D unit in India focused on PV equipment. ' On the company's website you can already find several products dedicated to solar installations.
Another pillar of development are acquisitions, an example of which is last year's acquisition of Polon from Relpol SA, specializing in the production of CZIP series protection controllers and SMP stationary radiation monitors. Although not much time has passed since the transaction, the unification process of both organizations is now properly completed: drivers and radiation monitors are already produced in Lumel 4.0, the staff of the Polon Plant sits with new colleagues in the design office. 'From our point of view, the safety controllers were particularly interesting as they perfectly complemented our product range with a new medium voltage segment. Moreover, they will feed into our portfolio of products by strategically associating with photovoltaics. Also in the case of radiation monitors, we see very significant synergy effects when it comes to sales. Relpol did not have an extensive international sales network for these products, and Rishabh Instruments has been building it for many years on such lucrative markets as, for example, the domestic Indian market. ' In the coming years, Polon's products will add approximately PLN 4-5m annually to the company's budget.
There is one more, extremely important pillar of Lumel's development: ODM and EMS services. In 2018 and 2019, the company's revenues were at a very similar level, around PLN 39 million per year, the coronavirus 2020 brought a slight, 3.5% decrease to just over PLN 37 million. Currently, revenues from EMS services account for approximately 15% -20% of sales, while by 2025 their share is expected to increase to 40%. Taking into account the planned increase in sales in this period, sales of services are expected to increase from approximately PLN 7 million to PLN 32 million. President Dinesh Musalekar's recipe for achieving such ambitious growth is to engage in the provision of services by all departments of the company - apart from production, also R&D and laboratory - and to transform EMS services into services provided in the ODM model. According to Marek Florczyk, head of the laboratory, most of the work performed by his well-equipped department is already performed for external entities. The role of the twin company Lumel Alucast, producing aluminum castings for leading automotive suppliers, is also foreseen here. 'Why shouldn't we put our electronics in them?' Asks the president of Musalekar rhetorically.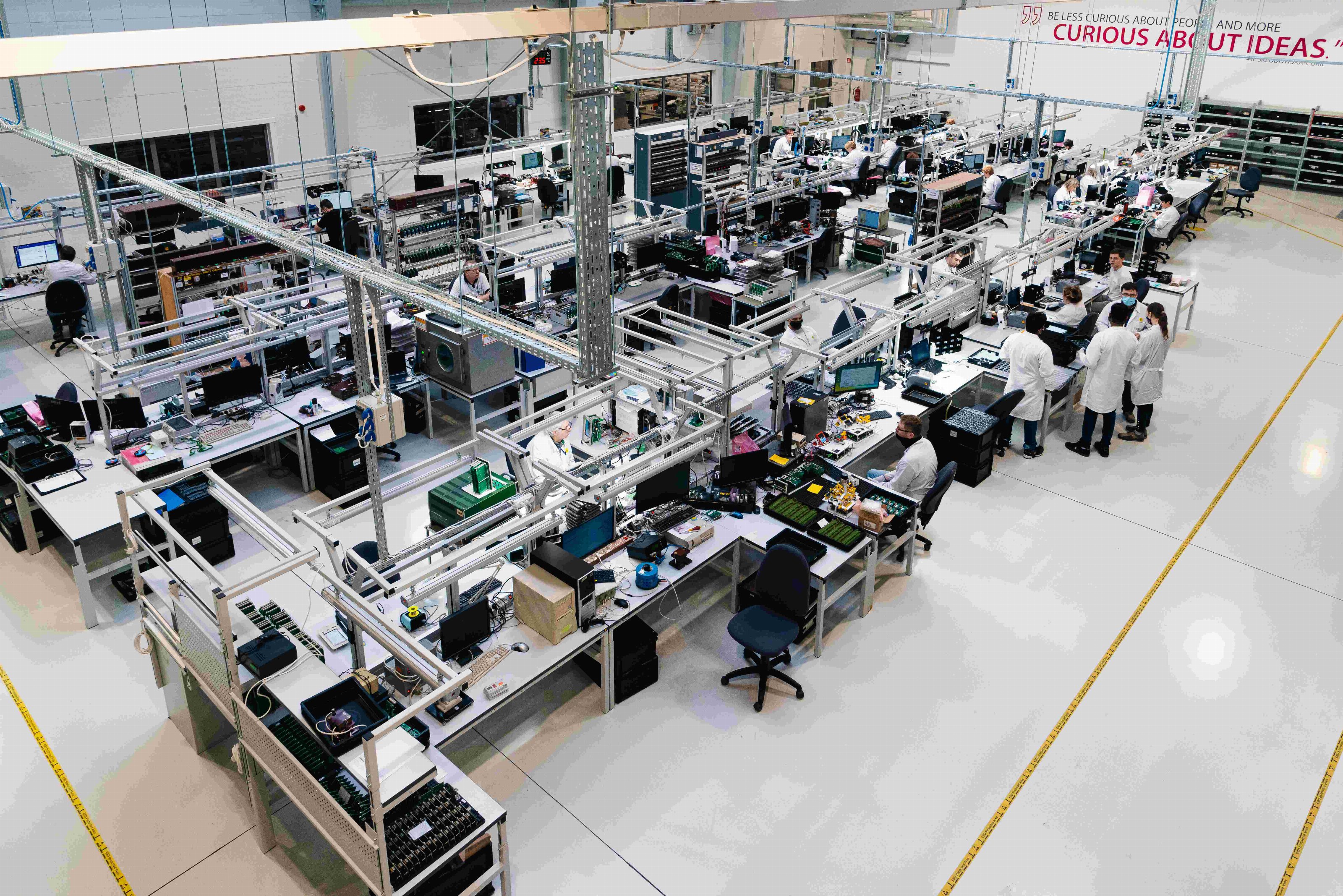 An amazing team
An elderly gentleman who might have been retired for a long time in my eyes, a desk next to a young boy, I guess right after college. The elderly gentleman has been at work at 4.45 am for many years so that the laboratory equipment he wants to use during the day is properly warmed up. Iza Ciesielska-Turomsza, the organizer of the visit to Lumel, says with a smile 'they don't do that anymore'. Marek Florczyk, the head of the laboratory, who does not need long to be encouraged to talk about his work with passion and dozens of other people make up the unique Lumel team from Zielona Góra.
Ten years ago, Lumel was bought as a result of the privatization process by the Indian concern Rishabh Instruments and it is the only known case of investments in the electronics sector of an Indian company in Poland. This is an extraordinary story, about which I ask the president of Musalekar: 'The founder of Rishabh and the majority current share holder, Narendra Goliya, has known Lumel as a strong European brand for a long time, he has repeatedly encountered its products at international events. He knew it was an interesting company, but he had to wait a long time for the privatization procedures to be carried out. From an assortment point of view, Rishabh and Lumel products only doubled about 30 percent, 70 percent complemented each other perfectly. The long-awaited purchase of Lumel thus became an excellent opportunity to build a foothold for Rishabh Instruments on the European market. Moreover, valuable synergy effects between the two companies have also matured, especially in the area of ​​costs. A perfect example of this is software whose development costs in India are much lower, and Rishabh has an extremely strong software development center there. '
Currently, Lumel creates a very interesting mix of business and culture. In terms of business, together with Rishabh Instruments, it is a complete organization: it designs, manufactures, sells and provides after-sales services, both for electronics and software. Another unique aspect is the mixture of cultures that arose as a result of the acquisition of ten years ago - I asked the president if, after seven years of working in Poland, he saw significant differences between the approach to work of Indians and Poles: 'I have worked not only in Poland and India, but also in USA or China. And everywhere, in every corner of the globe, employees differ greatly from one another, it is difficult to reduce a given nationality to one denominator. I think that the great advantage of Poles is their commitment, they just want to do a good job, they want the results of their work to be perfect. 'I also ask a bit about our disadvantages:' Cons? Well, maybe they could be more flexible, less attached to the scope of duties once established. However, I myself am not sure if it is a defect or an advantage 'he replies with a smile. President Musalekar also talks about the changes that have taken place in our attitude before his eyes: 'As I have already said, they are committed, but appreciate the balance between work and private life, they do not want to spend all their time behind a desk.' Finally, it is worth returning to the beginning of the article and Lumel 4.0, of which Lumel Arena is a part. Inside, there is a modern gym, billiards, a common room and several other attractions, available to employees both during a break at work and in the afternoon. It is easier to keep the balance then.